About Strike A Pose Maui
Born and raised on the island of Maui, Abner and Joanna were high school sweethearts. Married for two years and together for a total of 13, the couple have a beautiful four year old daughter, Madison. Abner, a native Hawaiian, loves surfing and teaching people how to surf. Joanna loves to eat–she is a big-time foodie. She love all things fun and unique, and enjoys doing DIY from pinterest. Together, they love spending time with their friends & family, hanging out at the park, being at the beach until the sun sets and enjoying being at their home in Lahaina with their air conditioning on high during a hot, humid day.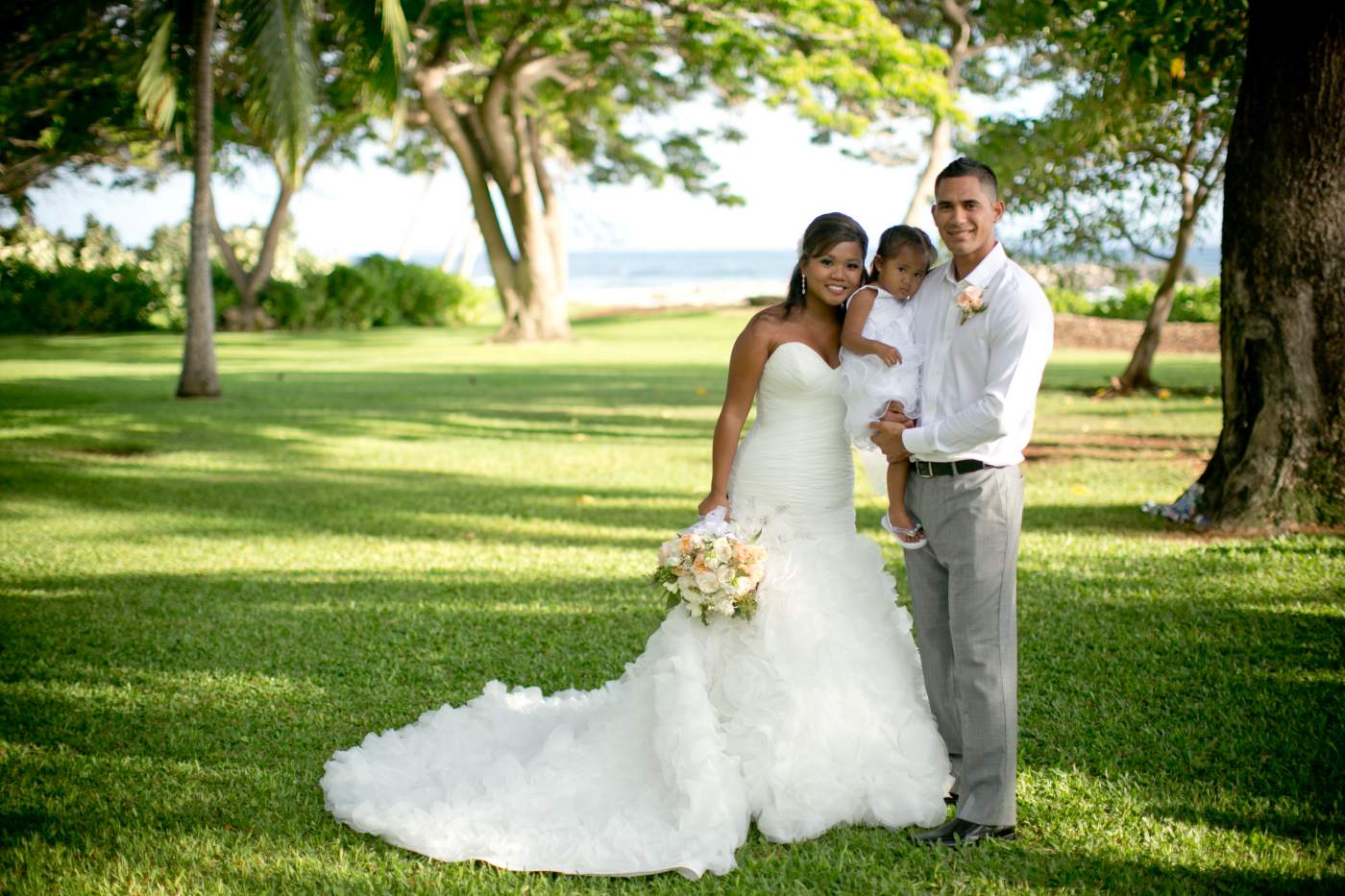 I love surfing and teaching people how to surf. Not only is surfing the ancient sport of my Hawaiian culture, but it's rewarding to me, that people from all over the world come to Maui to learn to surf. They're able to stand-up and ride a wave in their first lesson and their expressions and gratitude are unforgettable. Now that our daughter is old enough– I take her surfing, and spending that quality time with her is priceless!
Abner
I love food–not so much cooking it, than I love to eat it, but I must say I'm a pretty good cook. =) I love going to yard sales and finding cool things and going on Pinterest and doing DIY's with Maddie. I love spending time at the beach with friends or just having a good ol' BBQ at the house. I guess you can say I enjoy entertaining friends & family and making memories— that's why I'm so passionate for the photobooth, because it captures memories and experiences that you can cherish forever.
Joanna
Falling in Love
In 2009, Abner and Joanna fell in love with the event industry and saw an opportunity in Strike A Pose Maui, Photo Booth. They both never thought they would ever be interested in this industry because they've always been in the hotel industry. With over 20 years combined experience in the hotel industry, customer service is very important to them and comes very naturally. The photos, well, they speak for themselves.
The Aloha spirit is instilled in both Abner and Joanna. Your guests will have the best experience using the photo booth at your special event! They strive to provide a fun and laid back atmosphere, with high-quality equipment so that your guests are sure to have an awesome time! Don't be surprised if you even get a little lesson from little Madison on how to properly use the props!(LOL!) They will even gladly help grandma and grandpa get dressed up for their photo-ops! With Strike A Pose Maui, their goal is to allow even you to relax, have no worries, grab your favorite prop and Strike A Pose!
When Abner and Joanna aren't helping entertain guests at an event with their photo booth, you can find them at their Surf Shop, Hang Loose Surf Club; Abner teaching the surf and standup paddle lessons and Joanna behind the desk, making sure everything else is running smoothly.
---